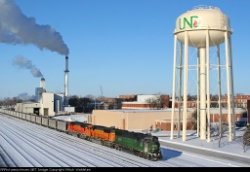 Welcome to the RRPictureArchives.NET contributor site of Mitch Wahlsten.



Hello...thanks for stopping on by to look at my collection of photos!

When I am not spending time in my hometown of Brainerd, Minnesota, I am a student at the University of North Dakota in Grand Forks. As a result, most of the railroad-related photos I've taken come from either the BNSF Brainerd and Staples Subdivisions near Brainerd or the many different BNSF subdivisions near Grand Forks and Fargo, ND/Moorhead, MN. I do occasionally travel outside the vicinities of Brainerd, Grand Forks, and Fargo/Moorhead, however, and any photos I have taken outside of these areas are placed into their own specific folder(s) or lumped together in a "miscellaneous" folder.

If you have any questions regarding any of my photos or any of the locations I've photographed from, feel free to give me an email by clicking on the "email" link at the top of any of my photos (note: you must be a member of rrpicturearchives to see this). Additionally, the following Yahoo groups contain plenty of other knowledgeable people who would be happy to answer any questions you may have:


Outstate Minnesota Rail
http://groups.yahoo.com/group/outstateminnesotarail/

North Dakota Railroading
http://groups.yahoo.com/group/ndrr/

Grand Forks Railfanning
http://groups.yahoo.com/group/grand_forks_railfanning/


-Mitch

You may browse my collection of pictures via the menu located on the left hand side of the page. I hope you enjoy the collection and thanks for stopping by!